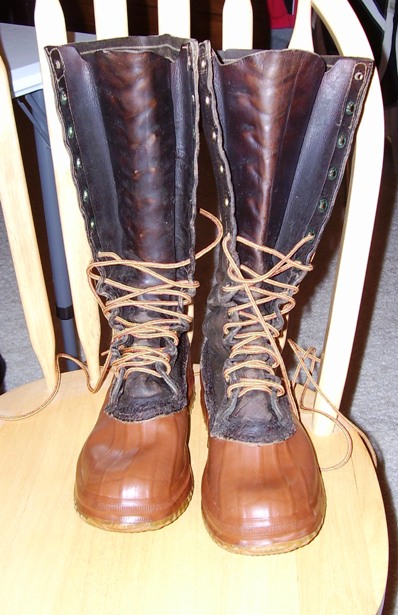 LL BEan style "duck", snow, mud, Boots
$225.00 $59.95
llbeanduckbts
The Famous "duck" style snowmobile/hunting boots have been around for many many years. These are in perfect condition and are still like new for as old as they are. Rubber bottoms combined with tall leather tops for superior protection against snow, mud,etc. Size is between 11-12. Boots like these are meant to be worn with thick wool sox. Great boots for snow or mud conditions! Click on picture to the "soles".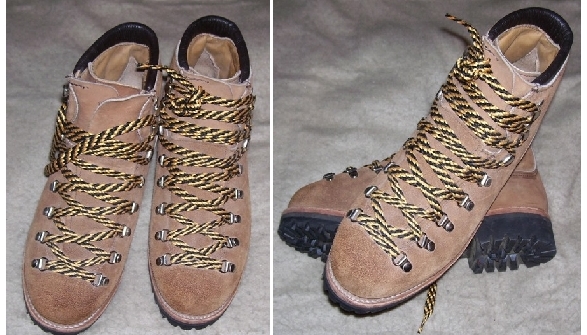 Hiking Boots by Milo of Italy
$214.95 $75.95
hikingboots
These are heavy duty Hiking Boots made by Milo of Italy!The Size is 10.5 and they are made of suede leather that is very waterproof and are all leather lined inside. The Vibram soles have a lot of traction and work good for quad/dirt bike riding especially if you don't need the taller, heavier motocross boots. This pair if Brand NEW! On sale as they are the last pair we have. I personally have a pair of these and can attest to their comfort and traction. Awesome! Click on the boot picture for another view.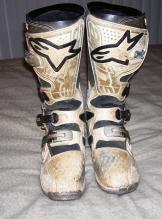 Alpinestars Tech 8 Boots, used, free freight
$398.00 $169.95
tech8white
Alpinestars Tech 8 Boots, White, Size is 12, rated 8 out of 10. All buckles work fine and inner boots are good. Please select Free Freight when ordering in the mainland US. SORRY SOLD 05/03/12.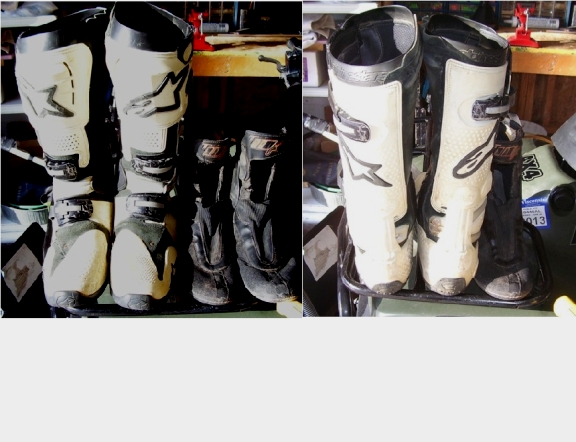 Alpinestars Tech 10 Boots, Used, Free Freight!
$559.95 $289.95
astech10white
AlpineStars Tech 10 Boots. White, Size 11. Overall condition very good. Buckles are good as are the inner boots. Soles are OK. Replacement soles are avail for $45 on ebay or from Alpinestars. Alpinestars makes some of the very best motocross boots on the market. Here is your chance to try them for a reasonable price. Please select Free Freight when ordering in the mainland USA. All used boot sales are final.SORRY SOLD.




Jeremy McGrath's SIGNED Alpinestars TECH 7 Boots, COLLECTORS ITEM!Free Freight
$290.00 $129.95
jmcGrathBts
Jeremy McGrath's Alpinestars Tech 7 Boots, SIGNED by him and worn by him in many races. Still good shape too. A COLLECTORS Item! Since these were made for him there is no size inside the boots, but think he is a size 9 or 10. Autograph date is 1996. Again These boots are a Real Collectors item..All used boot sales are Final!Free Freight on these in the mainland USA. Please click on picture for another picture. Soles are good on these.SORRY SOLD.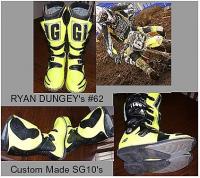 GAERNE SG10, DUNGEY's Boots!
$375.95 $199.99
RyanDungey'sCustommadeFlorYellowBts
CUSTOM MADE GAERNE SG10's,for RYAN DUNGEY by Gaerne in Italy! These are a Special Size of 10.5 (Gaerne only makes full sizes in the US). Special Flouresent YELLOW Color with Black Leather. EXCELLENT CONDITION, Ryan only wore these on the track once. Now you can wear a Ryan's Boots! SORRY SOLD.



Gaerne SG10 Lance COURY'S BOOTS! Free Freight!
$439.95 $199.95
Gaernesg10coury'sboots
GAERNE SG10 Used, White, Size 9, Lance Coury's Boots. Lance is 19 years old and is an FMX rider and goes BIG! Boots are in very good shape, just some black marks from all those huge tricks he does..soles, buckles are fine. Note, Click on Pic for more. Please SELECT Free freight when ordering in the mainland USA. Check out Lance at his website www.lancecoury.com SORRY SOLD.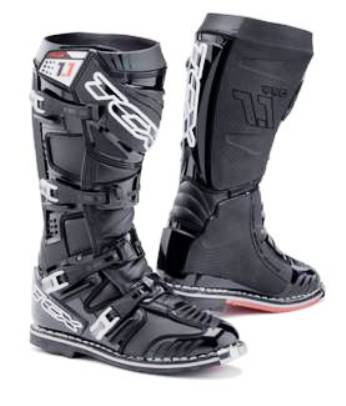 TCX Pro 1,1 Boots, DISPLAY MODEL, One Pair only! Free Freight!
$279.95 $180.00
tcxdisplay1.1
TCX Pro 1.1 MX BOOT!DISPLAY MODEL!! Features inclued: UPPER: water resistant micro fibre, high wear resistant, padded front and ankle area for a better comfort and flexibility. LINING: breathable fabric with new double compound PU SOFT padding around the ankle area to grant a superior comfort. PROTECTIONS: new shin plate with embossed logo, polyurethane toe protector, steel toe cap, inside HIGH GRIP ZONE heat guard, rear polyurethane heel protector, ankle and malleolus protections. BUCKLES: aluminium adjustable buckles each protected by PU reinforcements. SOLE: interchangeable rubber sole. COLOUR is Black, Size is 10. Please SELECT Free Freght when ordering in the mainlans USA.SORRY SOLD 11/23/13.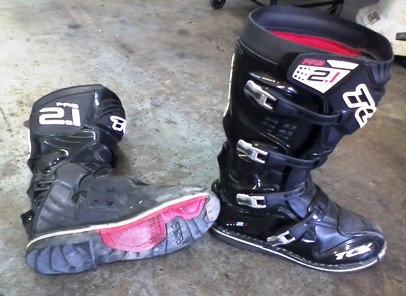 TCX 2.1 Pro Boots, USED, Free Freight
$459.95 $220.00
tcx2.1prousedblk
Just Arrived! TCX Pro 2.1 Boots, Black, Used, Size is 9. These are in near excellent conditon. Soles still like new! All buckles work fine and inner booties are fine. Get one of the best boots, top of the line from TCX for a fraction of the price! SELECT Free Freight when ordering in the mainland USA. Hurry these won't last!!!SORRY SOLD.




ALPINESTARS TECH 10 Boots-Used, ok shape
$289.95 $109.95
tech10btsusdblack
ALPINESTARS TECH 10 Boots, USED, These Tech 10's are size 11 and are well worn/used. They are still wearable as is, The left sole has a worn spot, right boot has the most wear on sole. The inner Bootys are in Good condition and the Buckles all work fine. Alpinestars will fully refurbish these for $75, new soles, so for as small price you can have a nice pair of boots for way less than the new price of $579.95. Boots are rated at a 4-5. All sales are final on all used boots.SORRY SOLD 10/20/13.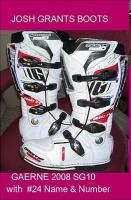 Gaerne 2008 JOSH GRANTS SG10 Boots-FREE FREIGHT--USED
$429.95 $279.95
JoshGrantGaerneSg10boots
JOSH GRANT's Used, 2008 GAERNE SG10 Boots with personalized decals! Boots are White,and Size 9 and Used in Excellent Condition! Now you can own JOSH GRANT's Boots! These are one of a kind from the Factory Connection Rider. Boots include his Boot ID kit with his Name and Number on each boot. Hurry these will go FAST!!! AWESOME! Click on Picture for more of Josh's Boots. Please select Free Freight when ordering in mainland USA.Sorry Sold.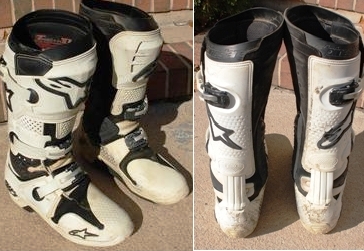 Alpinestars TECH 10 Boots, Used, White
$569.95 $299.95
AStech10white
Alpinestars Tech 10 Boots, White, Size is 10 and Condition is very good. All buckles work fine, Soles are good and this is a later model with the Black and White soles. Booties are in very good condition too. You can't beat an Alpinestars Tech 10 Boot! Almost ALL the PRO's wear them as they are the very best you can buy for safety and looks. Hurry these are hard to find in this good of shape used! All used boot sales are final. Please Select Free Freight when ordering in the mainland USA. SORRY SOLD.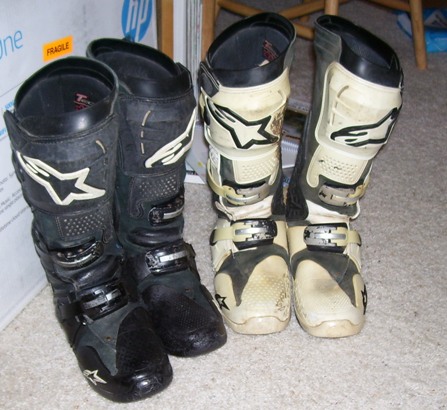 ALPINESTARS,Two Pair for price of One! TECH 10's!
$459.95 $199.95
twopairtech10's
WOW! TWO PAIR of Alpinestars TECH 10's! Both for one low price! One pair is a White Size 12 and the other pair is a Black Size 12. Both pair will be needing new soles and other repair but are fully functional as is right now. Alpinestars will completely repair Tech 10's for only $75 in less than 2 weeks. Here is your chance. Wear one pair while the other is getting fixed! Where can you get a new pair of Tech 10's for cheap like this?!All used boot sales are final. Hurry, these will go fast! Note, click on picture for another view of boots.SORRY SOLD 01/30/14.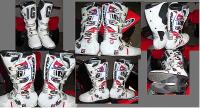 GAERNE SG10, Jake WEIMER'sBoots-Used with Graphics!
$425.95 $199.99
Jake WIEMER #73 from Factory Connection Boots. These are Gaerne SG10 White with Custom Graphics made with his name and Number on them. Boots are size 10 and have been raced in but are in very good condition..rated a 8 out of 10! Soles and buckles are fine..some wear around the very top gaiter but nothing that affects the wearability of the boots. Now you can have a Pro's Boots! One of a kind! SORRY SOLD.