Renegade Racing offers the Flight and Comp Boots from Six Six One. You can look through our selection of the Six Six One Boots below.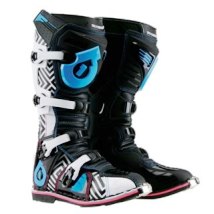 SixSixONE Flight Boots
$299.99 $269.95
sixsixoneflightbts
A traditional welded sole and state-of-the-art materials help to make this the lightest, most protective boot in motocross. ¡Innovative styling from the leader in protective gear. ¡Aggressive-styled, ultra light motocross boot with loads of protection. ¡Bio-foam reinforced upper shin area provides comfort and added leg protection. ¡Twin embossed synthetic heat shields protect leg and boot from thermal damage. ¡Flight's exclusive airflow venting system helps vent internal boot heat. ¡Outer lateral ankle support allows the perfect amount of movement. ¡Replaceable Dur-Tac compound sole core with durable steel shank. ¡Ultra sensitive toe TPU material allows for controlled shifting. ¡Composite reinforced protective heel plate facilitates easy heal shifting. ¡New exclusive SIXSIXONE top cap adds style and function. ¡A. New rubber sealing top boot gator with Velcro closure seals out mud and debris ¡B.Reinforced, padded internal liner system eliminates the need for a "booty" ¡C.Upper calf TPU provides protection and releases hot air from inside the boot ¡D.Adjustable nylon straps and newly-formulated floating aluminum buckles are a cinch to use. Adult sizes of 6-13, colors are Rad Cyan, Rad White Please select Free Freight when orderinng in the mainland USA.



---
| | |
| --- | --- |
| | All Renegade Racing Graphics on This Site are Protected by Copyright From Any Unauthorized Use Including Any and All Copying of Content Located Within This Site. Copyright © 1997-2013 Renegade Racing, All Rights Reserved. Renegade Racing is a Licensed Retailer Of All Products on This Site. Each Individual Product is Protected By It's Respective Copyrights. Questions or Comments About Our Site Please Contact sales@renegaderacing.com |