Shoei 2009 HORNET-DS(DUAL SPORT) Helmets, CLOSEOUT SALE!Free Freight
$482.95 $399.95
shoei09hornethlmts
Shoei 2009 HORNET-DS(DUAL SPORT) Helmets: Technical Specs + Features: One of the fastest growing segments of the motorcycling family over the past few years has been the DUAL SPORT market. As legal off-road riding areas become harder and harder to find, Dual Sport riding has been filling the gap for many riders that want the freedom and excitement of riding in the dirt without the headaches of loading their bikes in a truck and driving for hours to find legal off-highway riding areas. With a Dual Sport bike, any dirt road that a motorcyclist spots in their travels suddenly becomes an opportunity for adventure. Up until now, the Dual Sport rider was stuck with two options. Most chose to wear an off-road helmet with goggles and fight with a visor that is constantly buffeting in the wind while enduring all the road noise and wind entering the front of the helmet. A few others would endure the stares of other motorists as well as the blinding glare of the sun as they rode with a street helmet aboard their dual sport bikes. Shoei has changed all of this with the introduction of their dual sport specific helmet, the Hornet-DS. Semi-Dual EPS Liner Ventilation System 3D Max Dry Liner System Fully Removable / Replaceable Interior Cheek Pad Channels For Eyeglasses Upper Air Intake Visor Air Intake Lower Air Intake Face Shield Defogging Vent Chin Curtain Cross Vortex Rear Exhaust Vent Neck Outlet Vent Aerodynamic Visor 3 Dimensionally curved C-49 Shield Snell M2005 / DOT Approved Lightweight, Advanced Integrated Matrix Plus (AIM+) Shell Construction. 5 Year Warranty From Purchase Date. 7 Year Warranty From Helmet Manufacture Date. Whichever comes first. 3 Different Helmet Configurations Visor & Shield. Visor Only. Shield Only Avail in Matte Black, Black, Matte Deep Grey, Crystal White, Light Silver and Sonora TC-5(Black). Please select Free Freight when ordering in the mainland USA. CLOSEOUT SALE!! ALL SALES FINAL!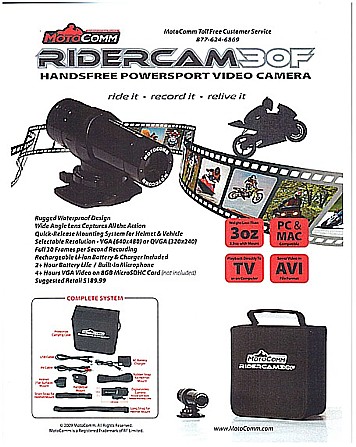 MOTOCOMM RIDER CAM30F-NEW PRODUCT, Free Freight
$199.99 $169.95
The MotoCom Rider Cam30F does it all in one complete package. Camera attaches to your helmet or vehicle. Rugged WaterProof design, Wide Angle lens to capture all the action, quick release mounting system for helmet or vehicle,Selectable resolution VGA(640x480) QGVA(320x240).Full 30 frames per second recording, Rechargeable LI-ion battery and charger included. Two + hour battery life,built in Microphone, 4+ hours of VGA video on 8GB Micro SCHC card. Comes with carrying case and all accessories needed. Very compact unit with great quality. Please SELECT Free Freight when ordering in the mainland USA.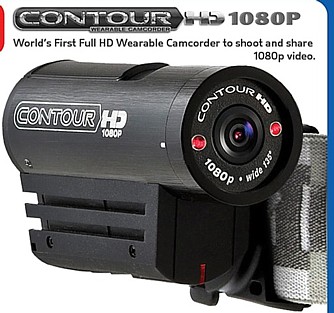 Contour Camera HD, NEW PRODUCT!Free Freight!
$279.95 $249.95
contourcamera
The CONTOUR 1080P HD Video Camera attaches to your goggle strap. It is the first full HD wearable camcorder to shoot and share 1080p video. Perfect for dirt bikers/racers,etc., this camera has the Best quality you can get. It features 4 HD settings (1080p, 960p and 2 at 720p)with 2 frame rates (30fps and 60fts) and 4 config settings. But most important the Contour HD Sofware will share your pictures/video in lifelike 1080p to VHOLDR.com With its single button operation and dual lasers for alignment the Contour HD 1080p brings the biggest HD video online with the popular and easy to use Contour HD Camcorder line. NO WIRES, Smooth, full frame, TV Quality video! Includes a Direct portal to share videos on YOUTUBE! System includes: Camera, helmet mount, goggle mount, extra adhesive, 2GB SD card, USB cable and rechargable battery. Splashproof shockproof, aluminum enclosure, And comes with FREE FREIGHT in the continental USA. SUPER SUPER CAMERA.. GREAT XMAS/BIRTHDAY present too!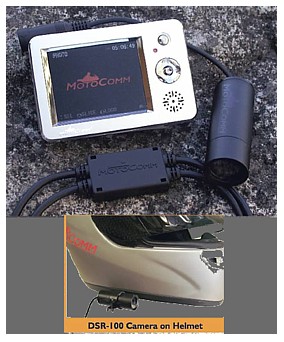 MotoComm DSR-1003G Helmet Camera! NEW! Free Shipping!
$285.95
motocommhelmetcam
The 2010 MOTOCOMM Model DSR-1003G HELMET CAMERA is the hottest new product this year!GREAT XMAS PRESENT!! Camera allows you to film your ride, and play it back on the full color display! Complete system has a bult in MP3 player that allows you to listen to music. Camera can also take Still Digital pictures. Weatherproof, bullet style camera has a rugged aluminum housing and weatherproof connectors. Digital recorder/playback unit has FULL COLOR Display, records video and audio form camera and remote mount microphone. Records using standard compression and file formats. Save videos in internet standard 320x240 resolution at 30 frames/second. 128MB onboard memory. Accpets SD card (1 GB sD card equals 4 hours of video/audio recording). Color LCD and built in speaker for on the go playback or rearview use. Helmet speakers included uses USB Conneciton for transfer of video/audio files to a computer. Analog RCA video/audio output allows you to play videos direct to TV. Includes all necessary hardware and adapters for battery powered operation and 12V DC power cable for operation off the vehicle battery. All cables and accessories included in a carrying case. Can be used as an active rear-view camera system. Please click on the picture to view accessories included.Free freight in the mainland USA.



LEATT 2010 CLUB NECK BRACE-FREE SHIPPING!
$395.00
leattneckbrace
LEATT Neck Brace for 2010. This is without a doubt the most talked about piece of motocross equipment.This neck brace is designed to protect the neck and spinal column from direct impact to the head. With spinal cord injuries becoming increasingly more common, and a lack of equipment available to help protect riders, the LEATT NECK BRACE, fills the void. The brace was quickly endorsed by some of the biggest names in motorcycle racing. As riders began to test the new product, what they found is that the shape and weight of the brace did not affect their comfort level or restrict movement. Avail in Small, fits 4-16 years old with slim build or Medium..16 Years+ and a bigger build. Please select Free Freight when ordering in the Mainland USA.



SHOEI KEVIN WINDHAM 2011 VFX K-DUB2 Helmets
$622.99
shoeikdub2hlmts
SHOEI KEVIN WINDHAM 2011 K-DUB2 Helmets are the TOP of the Line from Shoei! AIM+ Shell Construction Shoei's proprietary AIM+ technology. This process combines fiberglass with organic fibers that are so strong that they can only be cut with a laser. The end result is a stronger, lighter shell that will absorb and distribute the force of an impact safely and efficiently. Dual-Layer EPS Liner= •Dual layer liner yields enhanced impact absorption by adjusting thickness and density in key areas •Inner liner features air channels for efficient cooling •Impact-absorbing EPS liner throughout the entire chin bar V-430 "Sleek" Visor •Developed by Shoei's sponsored riders •Lengthened for additional protection from sun and roost •Adjustment slot lengthened for greater versatility •Plastic hardware is utilized for easier visor breakaway during impact •Includes a matte black strip to reduce glare. 3D Max-Dry Liner System •Polyurethane foam pads are three dimensionally formed for a perfect fit •Proprietary synthetic fiber absorbs and exhausts sweat 2X faster than conventional nylon •Liner is removable, adjustable, and washable Emergency Quick Release System (EQRS) •Mechanical tabs disengage cheek pads for easy removal by emergency medical personnel •Helmet can be removed with minimum load to rider in emergency situations Ventilation System •Improved air intakes are located in mouthpiece, forehead, and through scoops directing air into EPS liner •Seven exhaust ports dispel hot air from the rear of the helmet •Vent openings are covered by wire mesh to prevent dirt from entering liner Sleek" Mouthpiece •Wire mesh screen helps prevent roost from entering the mouthpiece •A strip of AIM+ shell material reinforces mesh screen and helps to reduce chances of larger intrusions •Sleek mouthpiece directs cooling air through a removable and washable foam filter 5-Year Warranty •5-Year Warranty From Purchase Date. 7-Year Warranty From Helmet Manufacture Date. Whichever comes first. Kevins Helmets are avail in Red/Black (TC-1) White/Blue/Red (TC-2),White/blue/Black (TC-6) and White/Black/Gold (TC-9). Avail in XXSmall-XXLG. For Correct fit, please measure about 1 inch above eyebrows and go all the way around the base of the head. This gives you a measurement in inches which will be converted to size when you press the BUY ME NOW Button. Please SELECT FREE FREIGHT when ordering in the mainland USA.



---
| | |
| --- | --- |
| | All Renegade Racing Graphics on This Site are Protected by Copyright From Any Unauthorized Use Including Any and All Copying of Content Located Within This Site. Copyright © 1997-2013 Renegade Racing, All Rights Reserved. Renegade Racing is a Licensed Retailer Of All Products on This Site. Each Individual Product is Protected By It's Respective Copyrights. Questions or Comments About Our Site Please Contact sales@renegaderacing.com |