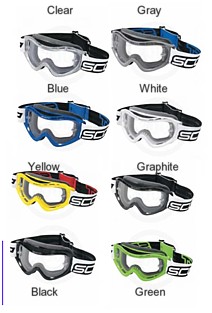 Scott Voltage X Goggles
$34.95 $31.75
scottvoltageXgogs
Developed using the knowledge gained from making the HiVoltage, Voltage R and 89X. The end result is the finest face fit Scott USA has ever produced. Face and helmet fit were optimized. Features dual-density Hydro X face foam, a clear anti-fog coated WORKS lens and silicone-lined strap. Compatible with all lenses, tear-off systems and nose guards that work with HiVoltage goggles. Simply place the film in the canisters and the system is ready for any condition.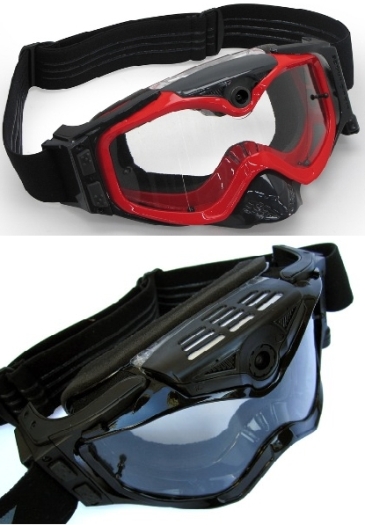 Liquid Image Camera Goggles #HD720P--NEW!!
$250.00 $239.95
LImagecameragog
The Liquid Image Impact Series HD is a MX Goggle with an integrated True POV HD Video camera. The goggle contains a 136 degree (FOV) wide angle lens to capture all the action for all Offroad Sports. The hands free unit has a 5.0 MP camera mode and a video mode that records HD720P video at a rate up to 30 frames per second with audio. The Impact Series HD can hold a Micro SD/SDHC Card up to 32 GB. Product includes a 4GB Micro SDHC card and a Rechargeable Lithium Battery for 1.5-2 hrs in the HD Video Mode. With the use of a micro SD/SDHC card, the camera is capable of recording thousands of photos or hours of HD video and can be downloaded to a computer through the High Speed USB cable provided, or through a Micro SD/SDHC card. The Impact Series Goggles can be customized to fit a variety of single and dual vented lenses for different environments. The lenses are made of an optical Lexan material which is durable and impact resistant and 100% UV protected. The lenses come with an anti-fog treatment and include Iridium lens coating for accurate Light Transmission. The Impact Series Goggles can be converted to a Snow Goggle by changing the lense, nose guard, and strap for Xtreme Sport Action during the Winter.Avail in Red or Black. Please SELECT Free Freight when ordering in the mainland USA. Fantastic New Product! Watch how clear it is by copying and pasting the video below! EXCELLENT!! http://www.youtube.com/watch?v=O6ZW-ZQKLOM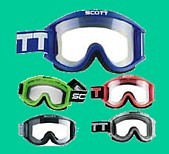 Scott Goggles Model #89X
$34.75 $28.95
scot89
This Goggle has been the Choice of Champions for over 20 Years! These are the BEST Selling Goggles in the Whole World! Features include Polyflex Urethane Frame, Clear .030 Lexan Lens, Double-Buckle, woven, Silicone No-Slip Strap, Contoured Face Foam and are available in Black, Clear, Green, Ocean Blue and Red.



Scott Voltage X Motocross Goggle with Film System installed
$69.95 $62.95
scottvoltageXmxgoggle
Voltage X WORKS Film System is a ready-to-use Voltage X goggle with the Scott patented anti-stick lens and WORKS canisters installed. Simply place the film in the canisters and apply the WORKS Universal Mud Flap Now the WORKS Film System is ready for any and all conditions that can be thrown at it. Features dual-density Hydro X face foam. Silicone-lined strap, Anti-fog coated anti-stick Lexan® lens. Factory-installed holeshot tear-off pins and six tear-offs. Translucent canister to check film supply. Easy-to-grab smooth-pulling advance knob. Comes with two rolls of film and a Scott USA mud flap Black frame and black/white strap




SCOTT 83X Motocross Goggles
$25.95 $23.95
scott83Xgoggles
Scott 83X Motocross Goggles are an entry level goggle with alot of high end features like hydro X face Foam, Single buckle strap sadjustment and a silicone line strap. Frame colors are black, red, blue, white,green and yellow. Lens color is clear.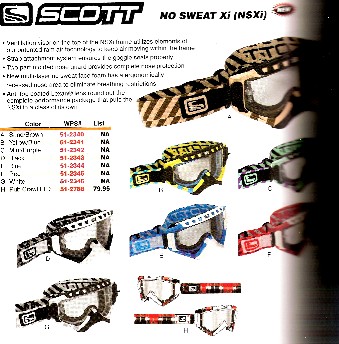 SCOTT 2009 No Sweat Xi(NSXi)-NEW!
$59.95 $54.75
scott09noswearxi(NSXi)
NEW FOR 2009! Ventilation visor on the top of the frame utilizes element of the ram air technology to keep air moving within the frame. Strap attachment system ensures the goggle seals properly. 2 part molded nose guard provides complete nose protection. New multi-layer no sweat face foam has an ergonomically recessed nose area to elimainate breathing restrictions. Anti-fog coated Lexan lens. Avail in Sand/Brown, Yellow/Blue, Mint/purple, Black, Blue, Red, White and LTD EDITIONPub Crawl LTD.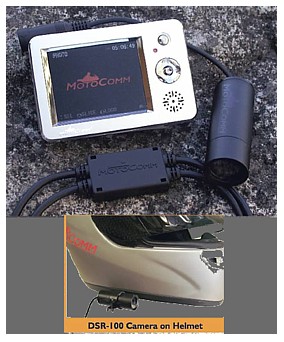 MotoComm DSR-1003G Helmet Camera! NEW! Free Shipping!
$285.95
motocommhelmetcam
The 2010 MOTOCOMM Model DSR-1003G HELMET CAMERA is the hottest new product this year!GREAT XMAS PRESENT!! Camera allows you to film your ride, and play it back on the full color display! Complete system has a bult in MP3 player that allows you to listen to music. Camera can also take Still Digital pictures. Weatherproof, bullet style camera has a rugged aluminum housing and weatherproof connectors. Digital recorder/playback unit has FULL COLOR Display, records video and audio form camera and remote mount microphone. Records using standard compression and file formats. Save videos in internet standard 320x240 resolution at 30 frames/second. 128MB onboard memory. Accpets SD card (1 GB sD card equals 4 hours of video/audio recording). Color LCD and built in speaker for on the go playback or rearview use. Helmet speakers included uses USB Conneciton for transfer of video/audio files to a computer. Analog RCA video/audio output allows you to play videos direct to TV. Includes all necessary hardware and adapters for battery powered operation and 12V DC power cable for operation off the vehicle battery. All cables and accessories included in a carrying case. Can be used as an active rear-view camera system. Please click on the picture to view accessories included.Free freight in the mainland USA.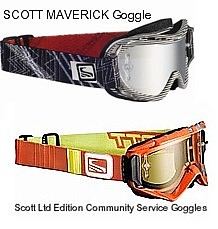 SCOTT LTD EDITION GOGGLES
$79.95 $58.95
scottltdeditiongogglesmaverick/communtiy
CHRISTMAS SPECIAL! SCOTT has 2 New models, just released Decmeber 2007. The Top one is the MAVERICK and provides individuality with it's pinstripe pattern which covers the frame, a custom stitched black and white strap and an ebrossed leather patch round out this limited edition goggle. Both goggles have the next generation of NoSweat Face Foam and come with a clear anti-fog coated works lexan lens on the Maverick and an Amp yellow works Lexan lens on the Community Service goggle. This goggle is an all around goggle and can be worn picking up roadside trash, directing traffic or riding dirt bikes. Safety features included reflective TPR patches, high visibility colors and an Amp Yellow woven warning label.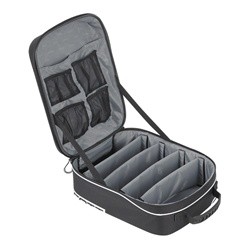 SCOTT Team GOGGLE CASE!
$36.95 $29.95
scottteamgogglecase
Holds 5 Pairs of Googles, Lenses and Tearoffs. Nicely padded carrying case.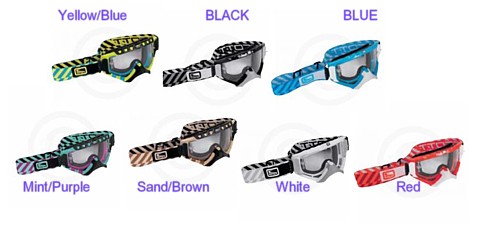 SCOTT No Sweat XI goggles
$59.95 $53.95
scott89nosweatXIgogs
Features: Developed using the knowledge gained from making the HiVoltage, Voltage R and 89X. The end result is the finest face fit Scott USA has ever produced. Face and helmet fit were optimized. Features dual-density Hydro X face foam, a clear anti-fog coated WORKS lens and silicone-lined strap. Compatible with all lenses, tear-off systems and nose guards that work with HiVoltage goggles. Simply place the film in the canisters and the system is ready for any condition