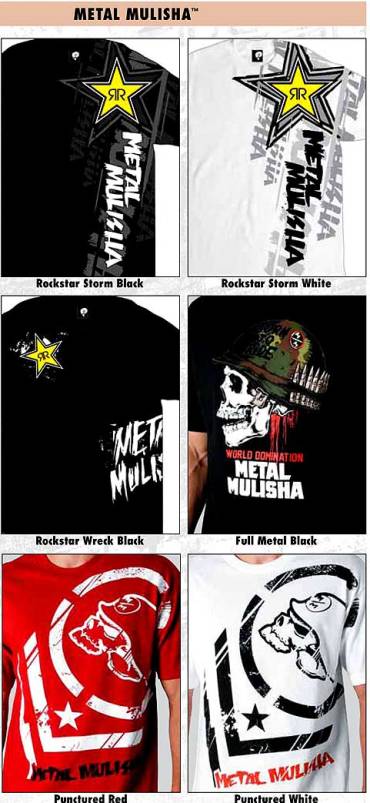 MSR 2012 METAL MULISHA TSHIRTS Pg.1
$24.00
msr12metalmulisatshirtspg1
MSR 2102 Metal Mulisha T'shirts page 1. Upper Left is ROCKSTAR STORM BLACK, Upper right is ROCKSTAR STORM WHITE, mid left is ROCKSTAR WRECK BLACK, mid right is FULL METAL BLACK, Lower left is Punctured BLACK, then Red, then WHITE. All avail in adult sizes of Small-2XLG.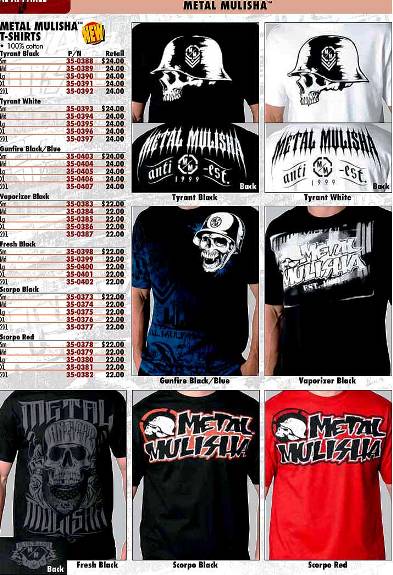 MSR 2012 Metal Mulisha tSHIRTS PG 3
$24.00
MSR12METALMULISHAT'SPG3
msr 2012 METAL MULISHA T'SHIRTS PAGE 3.Upper Left is TRYANT BLACK, Upper Right is TRYANT WHITE, Middle left is GUNFIRE BLACK/BLUE, Middle Right is VAPORIZER BLACK, Lower left is FRESH BLACK, lower Middle is SCORPO BLACK and lower right is SCORPO RED. All shirts come in adult sizes of Small-2XLG.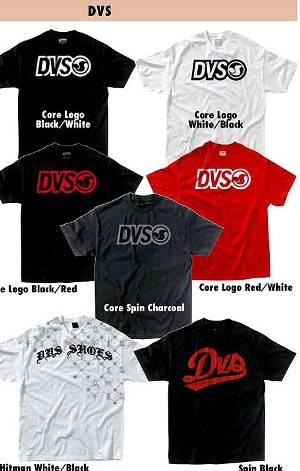 MSR 2012 DVS T'shirts
$20.00
msr12dvstshirts
2012 MSR 2012 DVS T'shirts. Top ones are CORE LOG in many colors, Lower left is HITMAN in white andSpin in Black. Avail in adult sizes of small-2XLG.



MSR 2012 ATTACK JACKET, with Free Freight!
$179.95
MSR 2012 Attack Jak features: quality hyporo coating and sealed zipper seams to make this as waterproof and yet breathable as you can get jacket. 7 zippered vents in front and back, 2 front pockets and one interanl pocket and a storage poach in the back. Also has a pocket for your MP3 player. Avail in Mens sizes of Medium-3XLG in Black,Blue and orange. Please select Free Freight when ordering in the mainland USA.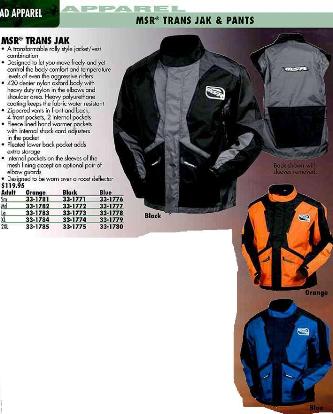 MSR 2012 TRANS JAK, Free Freight
$119.95
msr12attackJak
MSR 2012 TRANS JAK features a rally style jacket and vest combination. 420 denier oxford body with heavy duty nylon in elbows and shoulder area.4 front pockets, 2 internal pockets, zippered front & back vents. Fleece lined hand warmer pockets Pleated lower back pocket for storage, designed to be worn OVER a chest protector. Avail in mens adult sizes of Small-2XLG and in Black, Blue, & Orange. Please SELECT Free Freight When ordering in the mainland USA.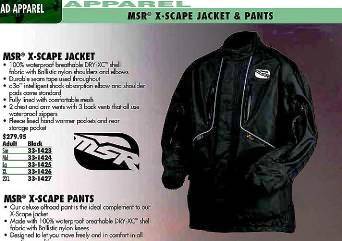 MSR 2012 X-SCAPE JACKET, with Free Freight
$279.95
msr12X-scapejack
2012 MSR X-SCAPE Jacket is the top of the line for MSR. 100% waterproof and breathable jacket. Fully Lined, pockets, sealed zippers. Avail in adult sizes of Small-2XLG. Please select Free Freight when ordering in the mainland USA.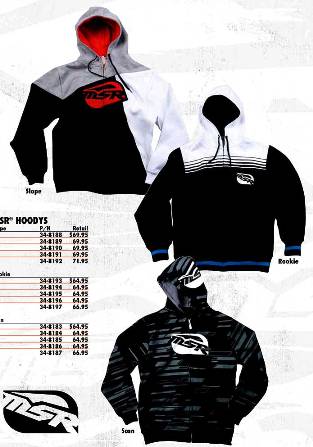 MSR 2012 Hoodys
$71.95 $64.95
msr12hoodys
2012 MSR Hoodys, Top one is called Slope, middle on is Rookie,and bottom one is called Scan. Avail in adult sizes of Small-2XLG. All have hoods and hand pockets. Nice!




MSR 2011 Reflex knee/shin Guards
$65.95 $59.99
msr11reflextkneegrds
These Reflex knee/shin guards are designed with an anatomical low profile that fits close to the legs and stays firmly in playce using 3 wide straps. This guard also protects the thigh in case of a crash from handlebars! Fully ventilated with adjustable eleastic straps that are the "set and forget" style. Very unique! Avail in adult sizes, color is black/red. Outstanding performance for the price! Really reasonable and protective knee/shin guards for the price!One size fits most adults.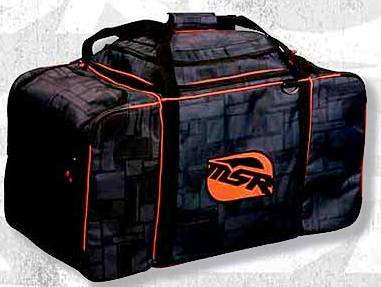 MSR 2012 Voyage Gear Bag!
$109.95 $99.95
msr12voyGearBag
New for 2012 if the MSR Voyage Gear Bag. Large main compartment holds, chest protector, helmet and jerseys and several pair of pants. End compartments hold boots, knee braces, sox, etc..Top lid holds goggles, lenses and other items. Includes comfortable shoulder straps and sturdy hand carrying straps. Size is 19.5"H x 15.5"W x 33" Long. Weight is about 6lbs. Black/Red only.




MSR 2012 Litening Pak
$39.95
msr11liteningpak
Low Profile fanny pak for securely organizing trail tools in elastic straps. Duraflex hardware and YKK Zippers. Universal attachement system. Compatible with all other MSR Removable Pak components. Dimensions are 4.75"H x 9.25"W x 1.75"D. Dry weight is only 0.95lb. Note this pak does NOT come with any tools.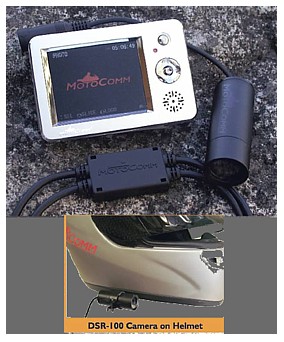 MotoComm DSR-1003G Helmet Camera! NEW! Free Shipping!
$285.95
motocommhelmetcam
The 2010 MOTOCOMM Model DSR-1003G HELMET CAMERA is the hottest new product this year!GREAT XMAS PRESENT!! Camera allows you to film your ride, and play it back on the full color display! Complete system has a bult in MP3 player that allows you to listen to music. Camera can also take Still Digital pictures. Weatherproof, bullet style camera has a rugged aluminum housing and weatherproof connectors. Digital recorder/playback unit has FULL COLOR Display, records video and audio form camera and remote mount microphone. Records using standard compression and file formats. Save videos in internet standard 320x240 resolution at 30 frames/second. 128MB onboard memory. Accpets SD card (1 GB sD card equals 4 hours of video/audio recording). Color LCD and built in speaker for on the go playback or rearview use. Helmet speakers included uses USB Conneciton for transfer of video/audio files to a computer. Analog RCA video/audio output allows you to play videos direct to TV. Includes all necessary hardware and adapters for battery powered operation and 12V DC power cable for operation off the vehicle battery. All cables and accessories included in a carrying case. Can be used as an active rear-view camera system. Please click on the picture to view accessories included.Free freight in the mainland USA.




MSR 2011 Tool Wrap
$15.95
ms10toolpak
This wrap is designed to organize, protect and stablize your tools while IN your fanny pak. Made from 660 D Korda with PU Backing, clear inside parts pocket, securing strap with nylon D-ring tensioner and hook and loop attachement. Size is 14.75"H x12.5"W and weighs only 0.25lbs. Great for keeping tools organized. (Note: no tools come with this kit!)