WELCOME to the RENEGADE RACING Online Store. RENEGADE RACING is proud to present our NEW redesigned Web Site. Thanks to our Great Customers we have expanded our website to include videos of our best selling items. RENEGADE RACING carries the BEST Gear with the Best Prices for Motocross and Off Road Riders/Racers on the Internet. We are one of the largest TCX Distribitors in the US! We carry the Best Boots from TCX and Gaerne and have the BEST PRICES of any store! RENEGADE RACING would like to THANK our Customers for their support since 1997! Your Privacy and Protection are very important to us and with our Secure Server you can be assured that your online credit card shopping is SECURE with us. If you do not see the product you are looking for, please call us at 310 371-1200.


WE WILL BEAT ANY PRICE, CALL US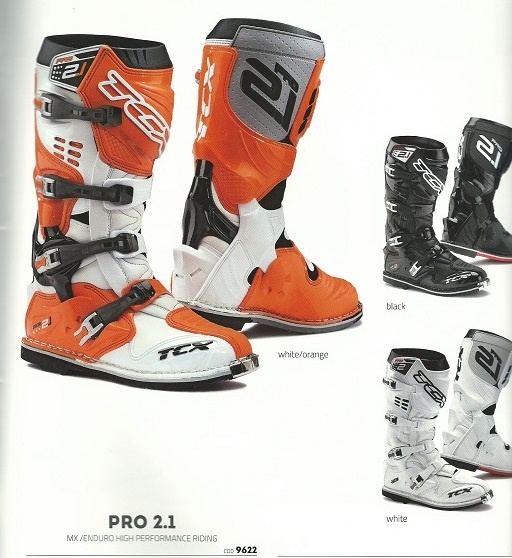 TCX PRO 2.1 Boots SPECIAL for 2015!
$449.95 $369.95
tcx2.1
SPECIAL, Free Freight for 2015. TCX 2.1 Boots with New Features include New Buckles, new Traction Bars near the heel, a flatter, seamless fit on the inside where the torsion bars connect. Sole is completely replaceable and is long lasting! More Plastic panels are found on the top of the boot with venting! A new Gaiter at the top is more functional than the old one. Avail in Black,White or new Orange/white in adult sizes of 8-14. Just pick the color/size you want,then Select Free Freight in the mainland USA. Your boots will be shipped right away!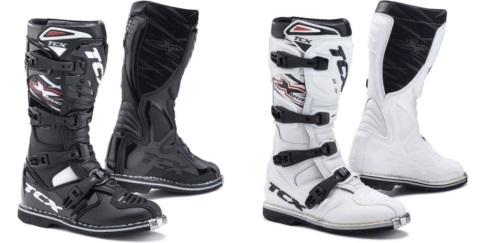 TCX 2104 X-Mud Boots-Free Freight!
$189.99 $170.99
TCXXMudBoots
TCX X-Mud Boots Matching any other boot for quality, TCX's entry level X-Mud boot is a value priced alternative that can do everything a high end off-road boot can. From protection to fit adjustment to durability, the X-Mud takes a simplified and proven design to cover all of off-roads many facets. UPPER: leather, padded front and ankle area LINING: AIR TECH breathable REINFORCEMENTS: inside suede heat guard, shin plate, steel toe cap, polyurethane heel and ankle guard, polyurethane toe guard BUCKLES: 4 polyurethane buckles SOLE: interchangeable rubber sole CE CERTIFICATION Avail in Black or White, Sizes 7-14. Please SELECT Free Freight when ordering in the mainland US. NOTE:Click on Pic for larger view of boots.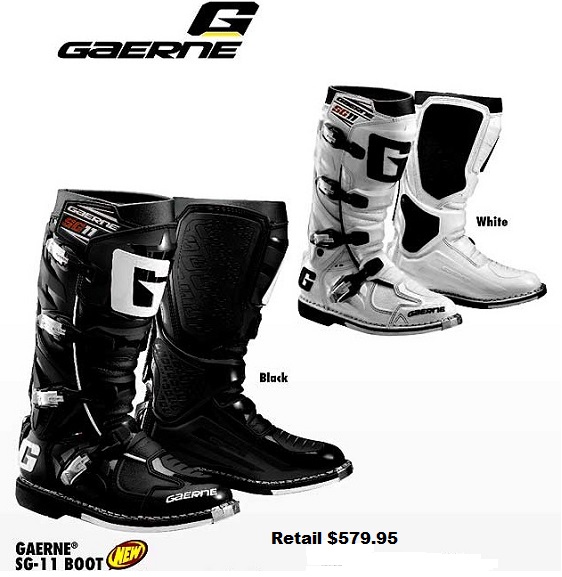 Gaerne SG 11, New for 2015
$579.95 $482.95
Gaerne SG11new for 2014
Gaerne SG 11 NEW for 2015. This boot features wrap around ankle pivot for more support and great fit. Grip Guard to really stick to the bike. Gaerne famous, dual composite sole for long lasting wear and repairable/replaceable alloy buckles ensure fit. Made in Italy. Avail in Black or White in adult sizes of 6-14. Please select free freight when ordering in the mainland USA.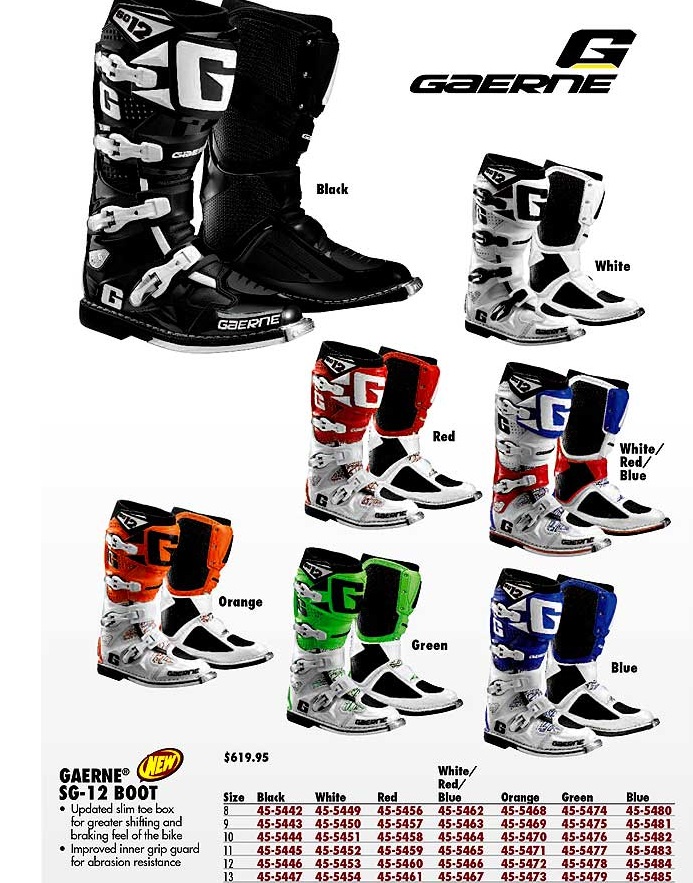 Gaerne SG 12 NEW for 2015!
$619.95 $499.95
GaerneSG12for2014
Gaerne SG12, NEW for 2015, includes a new lower profile toe section for greater shifting and braking feel. Also improved inner grip guard for abrasion resistance. Avail in NEW colors also of Blue, White, Red/White/Blue, Orange, green, red, and Black. This is Gaerne's TOP of the line for 2015. Please select Free Freight when ordering in the mainland USA.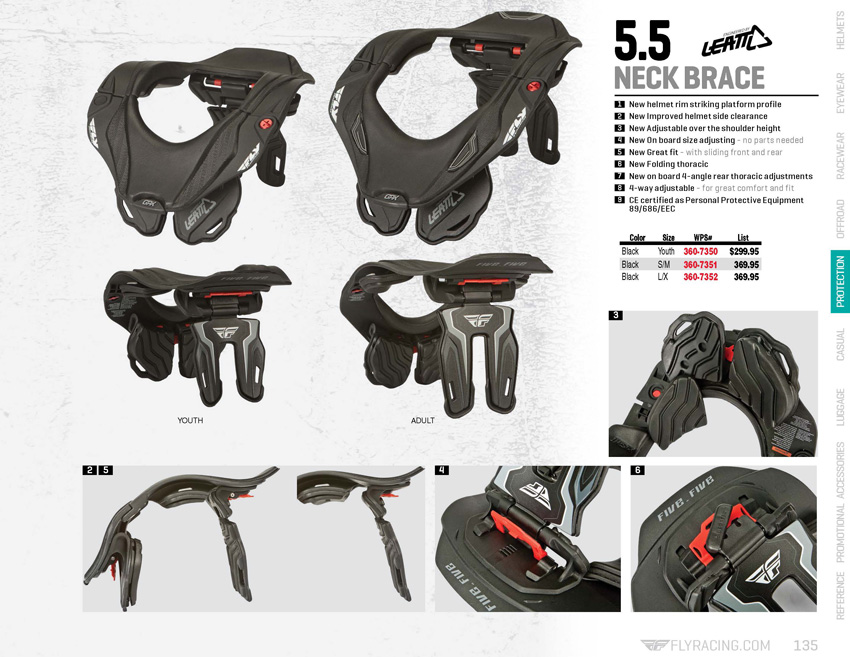 Leatt GPX 5.5 Neck Brace, NEW PRODUCT!
$369.95 $325.95
Fly15Leatt5.5neckbrace
NEW for 2015! Leatt GPX 5.5 Neck Brace. Features include;new helmet rim striking platform, new improved helmet side clearance, new adjustable over the shoulder height, new onboard size adjustment,4 way adjustable fit,CE certified personal protective equipment 89/686/EEC. Avail in adult size lG/XGL in black. Select Free Freight when ordering in the mainland USA.PLEASE WATCH THE VIDEO Below, FOR FULL INFORMATION ON THIS GREAT NECK BRACE



---
| | |
| --- | --- |
| | All Renegade Racing Graphics on This Site are Protected by Copyright From Any Unauthorized Use Including Any and All Copying of Content Located Within This Site. Copyright © 1997-2015 Renegade Racing, All Rights Reserved. Renegade Racing is a Licensed Retailer Of All Products on This Site. Each Individual Product is Protected By It's Respective Copyrights. Questions or Comments About Our Site Please Contact sales@renegaderacing.com |